Tragedy hits the Poldark family in a moving episode of the Aidan Turner drama
**Spoiler warnings**
Do not read on if you have not seen episode


I suppose we should have seen it coming.
The opening montage for tonight's episode saw Aidan Turner's Ross Poldark strolling along the beach, re-imagining mini Ross and mini Francis playing along the same stretch of sand as boys. Poldark doesn't go in for imaginary recollections much. Something, clearly, was going to happen.
And happen it did at the end of a tragic episode of the drama: poor Francis was dead. Just as he had made amends with Demelza and told Warleggan that he hated him and didn't want him to pay any more visits to Trenwith, he was gone. Drowned in his own mine.
Francis had also just found copper in Wheal Grace, but then the ground fell from under him and he went tumbling into the drink, facing what seemed like many agonising hours waiting for a rescue that never came.
"Why the hell didn't you learn to swim," said Ross when Francis's lifeless body was dragged from the water. It seemed a little harsh under the circumstances but what felt even crueller was the moment just before he sunk under when Francis imagined his rescue from Ross, holding out a hand, before realising it wasn't there, after all. Ross arrived too late.
It was a terribly sad moment of television, capped off with the funeral scene replete with a distraught Demelza, a devastated Elizabeth, a stony-faced Ross and a creepily contented-looking George Warleggan.
But it wasn't the only moment of high drama tonight. We also saw Elizabeth admit to Ross that she still loved him – that there was still a place for him in her heart and, she suggested, her in his.
"Can not a woman love two men?" she asked, echoing Ross' own words on the subject.
Warleggan secured Ross' £1,000 debt, which in some respects was the indirect cause of poor Francis' demise (Ross hotfooted it to Truro and wasn't around to rescue his cousin).
Also, there seems to be an informer around the place snitching on the smugglers which spells trouble for Ross' little contraband money-earner.
And Caroline Penvenen was back in Cornwall (this episode jumped ahead a year). She had been in London for a full 12 months and returned only to spurn her very silly intended Unwin and to flutter her eyes at Dr Enys.
The fluttering did the trick as the two kissed in a lovely bluebell wood and seemed to promise themselves to each other when Caroline comes of age.
With Francis out of the way, the path is also now open for Warleggan to make a proper play for Elizabeth. But he may find another obstacle in his path in the form of Aunt Agatha (Caroline Blakiston).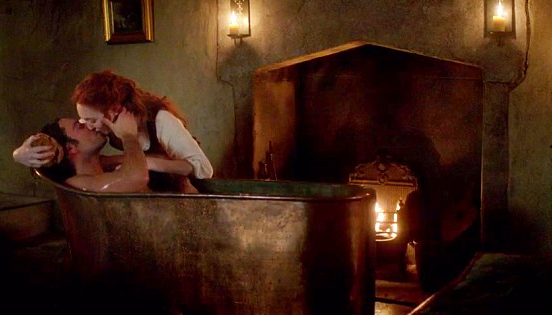 Warleggan told her that he hoped she were dead, refusing to address her with the respect and deference due to a lady of her years.
"I hope when I next call you will be six feet under," he hissed at her, for no good reason apart from the fact that he is a total bastard (and seemed to believe her when she said she couldn't hear).
But he may live to regret it, because heard it she did. "Big mistake," thundered the great lady and she seems the sort to make good on her threats.
But at the end the biggest mistake was Francis' in staying down a once flooded mine all by himself. One of the last images was of poor Francis' coffin at his funeral, with the lid slammed shut. There will be no Jud-style resurrection for him, just a life that went bad and was cut short just as he was making it good. How sad. If only he had learned to swim, indeed.
Farewell Francis.
Here you are in happier times...
FOR THOSE OF YOU WHO LIKE A MORE LIGHTHEARTED REVIEW
A
s money troubles continued to plague the Poldarks, Demelza (Eleanor Tomlinson) warned Ross (Aidan Turner) to distance himself from the smugglers. Meanwhile, George Warleggan, the 18th century's own Dick Dastardly, once again splashed the cash to bring his rival down. But Ross's reformed cousin Frances (Kyle Soller) made an ill-considered decision to visit the mine alone.
But first thing's first, let's talk about that scene...
1. Bathing is the new scything
Is that a loofah I see before me? Nobody reach for the towel! It was the scene that fans have been waiting for. Following last week's teaser trailer showing the brooding Cornishman in the bath, the moment didn't disappoint. After a long day of shirtless mining, a frisky Ross lazed in a tin bath in front of the fire while being sponged down by his beloved Demelza. The BBC licence fee is surely justified for that lingering camera shot alone.
2. Tragedy for Francis
B
ut really it was a dark and sad episode. With the Poldarks sinking deeper into debt, guilt-ridden Francis (Kyle Soller) was keen to be the first to source copper in the Wheal Grace mine. But his late-night efforts to investigate a new load ended in tragedy when he drowned in the flooded mine shaft. Ross had saved his wimpy cousin from the water once before as a child, but wasn't so lucky this time. As he clutched his lifeless body, he uttered the words: "Why the hell didn't you learn to swim?" Clearly Francis didn't get enough practice in the bath like you, eh Ross.
3. Elizabeth's secret is out
"A piece of my heart will always be yours as yours will mine." Well, that's put the cat among the pigeons. She dumped him for his cousin Francis in the first series but Elizabeth has bowled a ten by revealing the words Ross has always wanted to hear. This can't end well, surely?
4. So will Francis's death bring Ross and Elizabeth closer?
N
o doubt Demelza can now only look on as former lovers Ross and the newly widowed Elizabeth are united in their grief. "How can I compete with perfection and Ross' first love," she said to Francis as he gave her a pep talk earlier in the episode. It seems as if her uncertainties will get the better of her going forward. And she has reason - we saw that look on Ross' face when Elizabeth confessed her feelings for him at the Penvenen's dinner dance. This is a love triangle to rival Lolita.
5. George twists the knife
T
he cartoonish yet treacherous George Warleggan (Jack Farthing) has a new strategy to completely destroy Ross financially and we have certainly known George over time to be someone more than capable of getting precisely what he wants. If Francis' breakthrough at the mine reveals nothing of value then it looks like Ross is going to debtor's prison since George now owns his debt. But what Ross really needs to do is stop investing in disastrous projects and see the real value In his wife.
6. Doggy day care
Horace the dog must be the most pampered pooch in all of the land. The spoilt pug of posh Caroline Penvenen (Gabriella Wilde) was given marzipan as a snack this week. Marzipan, I ask you! They must be nuts.