This first video was originally posted in early July but I wanted to share it with you all because it is really great to get the full scoop on how the show came to be and their perspective on everything from the fans, adapting the books, Jamie & Claire's love story, costumes, speaking Gaelic, the casting process, and much more!
Its really fun and interesting to watch & listen to the cast as they laugh and interact with each other. I will post a couple of interviews, so sit back and enjoy the Outlander cast as they answer all those questions we have!
"Outlander" held its premiere at Comic-Con in San Diego on Friday night, bringing out bagpipers, men in kilts and the stars of the upcoming Starz series.
"It's super exciting," Caitriona Balfe, who takes on protagonist Claire Beauchamp Randall in the series, told Access Hollywood as she hit the plaid carpet at the Spreckels Theater.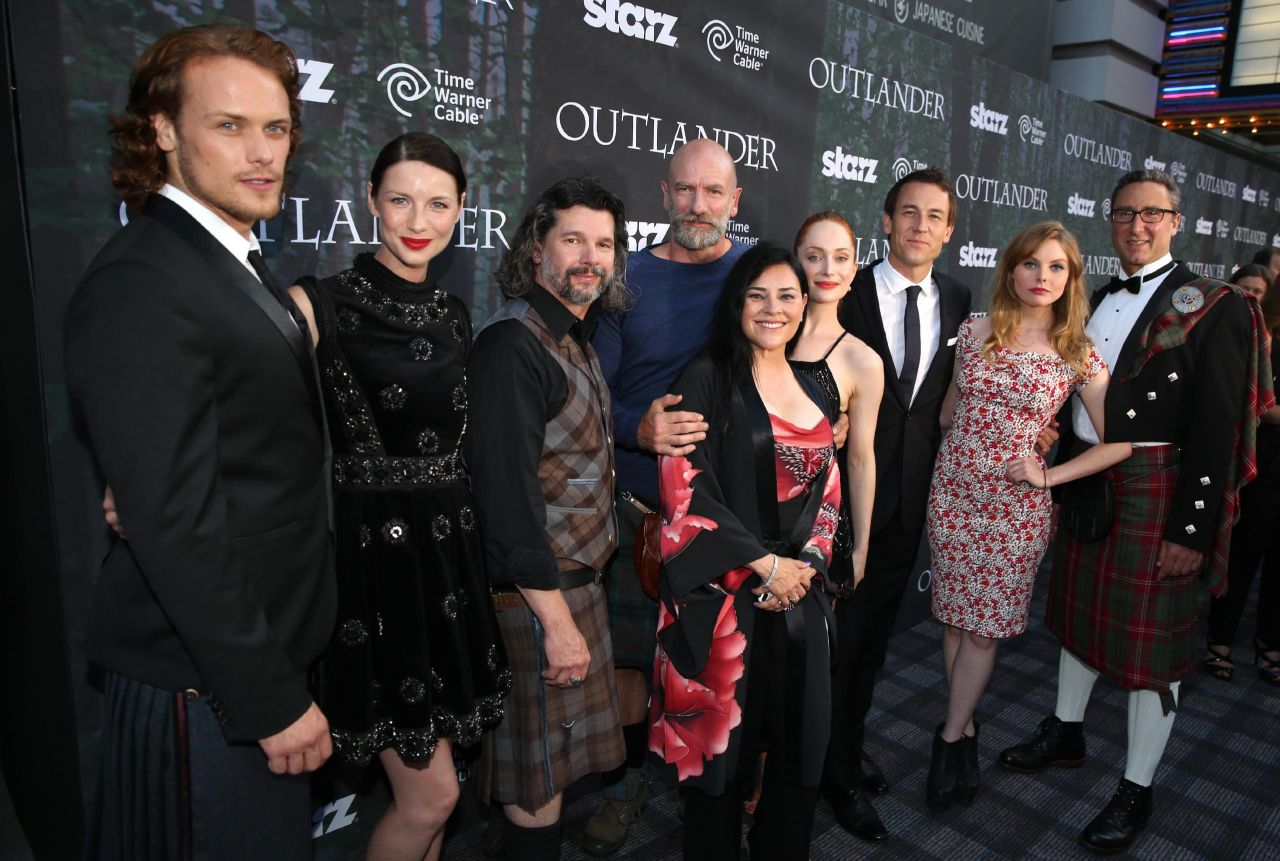 "It's been lots of fun," Sam Heughan (Jamie Fraser in the show) added of their Comic-Con trip. "We've been doing lots of press for it and now, we're finally here at the cinema."
Executive Producer Ronald D. Moore said he was excited to finally share the show with fans.
"The best part of the process is when you finally get to show it to an audience, so this is that moment when finally, it's not just this thing that we've all been working on and working on and watching and watching, over and over by ourselves," he said. "It finally gets to be shown to an audience and that's a great moment."
Kicking off August 9 at 9 PM ET/PT on Starz, the series follows the journey of Claire, a World War II nurse, who heads to Scotland after the war, hoping to reconnect with her husband, Frank Randall (Tobias Menzies). While on that second honeymoon, a twist sends Claire through a standing stone circle and back in time to a turbulent Scotland in 1743. There, Claire finds herself in the middle of a Scottish/English conflict, and caught up with a clan of Highlanders, including the charming Jamie.
Starting out with "Outlander" in 1991, Claire's story has now spanned eight books by author Diana Gabaldon. Asked how she felt to finally be at the premiere, where her work was coming to life on screen, the author called the moment, "surreal."
"I had not actually spent a lot of time imagining it, but at the same time, when you get here, you realize that you did have some expectation and suddenly, here you are," she said. "And it's amazing. Really exciting."
Claire, a modern (1940s) Englishwoman is the audience's window into the piece, and Sam said his co-star, Caitriona, had the role down from the start.
Author Diana Gabaldon
"I think Caitriona just completely embraced this from Day 1," Sam said on the plaid carpet. "I mean, the moment she came into the screen test that we had to read, everyone knew. But I think Day 1, she walked on set and she just kind of led with humor and grace and talent and yeah, she's pretty awesome."
As for Sam, who plays the legendary literary hero Jamie, he has big shoes to fill, but come August 9, Diana expects the Scottish actor to find a warm welcome from fans.
"At one point, very early after Sam Heughan was cast, he was getting a lot of enthusiastic email. He wrote to me privately and he said, 'What do you think they'll do when they actually see the show?' And I said, 'Well, either they'll collectively wet their pants or they will have torchlight parades down the streets demanding Ron's head on a pike.' So, I'm betting on the former," she said.
Ron said the series they've created is one that is faithful to Diana's original story.
"If you know the book, this is the book where you're going to recognize the stories, you'll recognize the characters," he said.
The piece, which is filmed in Scotland, is also a story about the country too.
"Scotland is just such a character in this and it is so beautiful and for me, as someone who hadn't really known Scotland before, I fell in love with it being there and I think everyone's going to fall in love with it seeing it," Caitriona said.
"It's a beautiful country and it's there on camera. You get to see it. … I feel really lucky to be able to bring this to people across the world," Sam said.
- some information taken from article by Jolie Lash on yahoo.com 7-9-2014