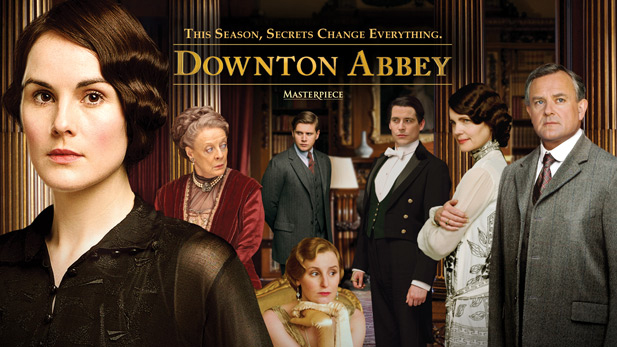 Click HERE for part one of watch Episode ONE
and HERE for part two
• Spoiler alert: this is a post-transmission review of episode one of season five of Downton Abbey, after its broadcast in the UK on 21 September 2014. If you don't want to learn what happens in that episode, stop reading now.
The hype is over, and the first episode of season five of Downton Abbey – as usual, a feature-length opener – has aired in the UK. Which means that a few of the new season's secrets have been revealed – and a few more hang tantalisingly in the aristocratic air. Here are the five that I find the most intriguiging:
1 Lady Edith's secret is bursting to be revealed
It's surely no mistake that this series opened with Lady Edith (Laura Carmichael) cycling over the estate to see her secret daughter, Marigold, at the home of Marigold's adoptive parents.
Mr Drewe (Andrew Scarborough), the kindly farmhand who has taken Marigold in, wasted no time in reassuring Edith that her secret is safe with him. But that reassurance came with an implicit disclosure that's rather worrying for Edith: Mr Drewe has figured out her secret all by himself.
And if he can do it, his wife can do it too – and might not be so unjudgmental.
More worrying for Edith were the events of the end of the episode, when fire ripped through her bedroom. The fire was started by Mr Gregson's German primer, which Edith threw across the room in frustration and which landed next to the grate.
What Edith also did, in that unhappy state, was to put a photo of Marigold as a baby under her pillow before she went to sleep. As Edith was rescued, the photo certainly wasn't. If the fire didn't burn it to ashes, the photo remains as a potential giveaway of Edith's secret to whoever finds it.
2 Miss Baxter's secret is already out – or is it?
Miss Baxter (Raquel Cassidy) took strength from Mr Molesley (Kevin Doyle) in this first episode, and confessed her criminal record to Lady Grantham (Elizabeth McGovern).
Which put Mr Barrow (Rob James-Collier) in a difficult position – of which more below – but also set two other hares running.
First, will Lady Grantham see fit to fire Miss Baxter, who is – as Lady Grantham so pithily put it – a 'convicted felon'?
My guess is that she won't, because – and here's the second thing – it looks as if Miss Baxter has plenty more storyline in her yet.
We discovered in episode 1 what she's done, but we pointedly didn't discover why she did it.
The theft (and disposal) of her former employer's jewels must have had a reason, which promises plenty more Baxter to come.
3 Lady Mary is getting louche – again

Dedicated Downton fans will remember that – despite all her icy aloofness – Lady Mary (Michelle Dockery) is not above a little slap and tickle when she fancies it.
In season 1, she was famously in bed with the visiting Turk Mr Pamuk when he spontaneously died.
Now she is planning a dirty week away with Lord Gillingham (Tom Cullen), who (ironically) plans to use her loose morals to show her that she should let him make an honest woman of her.
But Mr Blake may not have been rejected as comprehensively as Gillingham believes – there's an interview with the actor who plays him, Julian Ovenden, in the season 5 press pack. He'll be back…
4 Mr Barrow is thwarted – and not for the last time
Barrow's little plan to blackmail Baxter has been foiled – for now.
Only his heroism in the fire saved him from Lady Grantham's wrath over his treatment of Baxter.
And it doesn't look like it's going to be a happy season for poor Mr Barrow. Actor Rob James-Collier has said that Barrow is going to have to come to terms with the fact that he'll never find romantic happiness with another man (this being 1924) – so his spat with Baxter could herald more sadness to come.
5 This is a pacier, snappier, more political Downton
A couple of final thoughts on the overarching themes that episode 1 established.
It seemed to me that there was more pace and structure in the writing – to wit, some halfway decent cliffhangers (Edith with Mr Drewe in the barn, Edith throwing her book into the fire) going into commercial breaks, let alone ending the episode.
And though the world outside has always had a tendency to impinge on the great house – especially when the world outside was fighting World War I – it seems that this series may include more politics than before.
ITV has made much of the 'shaking ground' beneath Mr Carson's feet in the trailer for this new series, and the election of the 1924 Labour government was rammed home in the second scene of this first episode.
If historical accuracy is to be maintained, Downton – like all entailed estates – must sooner or later come under threat from death duties and social change.
Let's just hope that doesn't happen until we've had a few more juicy seasons…
Buffer