It's short but.... AT MY AGE, ONE MUST RATION ONE'S EXCITEMENT
'You have a straightforward choice before you...
You must choose either death... or life'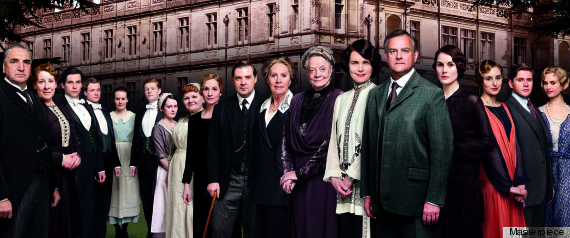 Downton Abbey: No more shock exits
FANS of Downton Abbey were left reeling by the shocking deaths of two main characters during the last series.
Now producers of the
award-winning
costume drama are ensuring there are no more unexpected exits by locking the stars into two-year contracts.
They are taking no chances ahead of the fourth series, starting next month, after being forced to kill off dashing Matthew Crawley weeks after Lady Sybil died in childbirth.
As revealed by the Daily Express, Downton's creator Julian Fellowes was as disappointed as his viewers that Crawley, played by Dan Stevens, died in the Christmas Day special. Yet he had no choice but to kill off the character when Stevens handed in his notice to pursue a film career in the US.
Executive producer Gareth Neame said: "We have now signed up the main cast members until series five, so there won't be any more shock exits for a while."
Key characters including Hugh Bonneville, who plays Lord Grantham, Elizabeth McGovern as Lady Cora, Lily James as Lady Rose and Michelle Dockery as now widowed Lady Mary have signed contracts binding them to the show for at least two series.
Maggie Smith, who plays the iconic Dowager Countess, is also reported to have signed the long-term
deal
despite persistent rumours that her character will die.
A preview of the first episode of the new series garnered rave reviews last week, and the stars, including Michelle Dockery and Laura Carmichael, celebrated with a wrap party aboard HMS President in London.
Downton Abbey is Britain's most successful TV export, with a global audience of 120 million.
In an interview this weekend, Fellowes said he tried to postpone Matthew's death to the beginning of the fourth series so the Christmas episode would end happily with the arrival of his and Lady Mary's baby.
"But Dan was set on a clean break at the end of series three and he said, 'I really feel it's right for me to go and finish now'," he added "Then you have a character who is happily married with a new baby and is heir to the estate but is not willing ever to be seen again.
"There is only one option – the Grim Reaper." The Oscar-winning screenwriter went on: "I don't want to pretend he did anything out of order; he definitely did not.
"He gave his notice but it caught us on the hop." Fellowes also confirmed that Dame Maggie, 78, will appear in every episode of series four, saying: "Reports of her death have been greatly exaggerated."
Welsh actor Tom Cullen, 28, who has joined the cast as the family's friend Lord Anthony Gillingham, is enjoying Dame Maggie's sense of humour. "She's just the most humble woman," he said. "And she's so, so funny."
and finally, one more interesting little story about what is going on behind the scenes at "Downton":
------------------------------------------------------------------
Lady Carnarvon banishes dogs from Downton Abbey
Owner of Highclere calls time on stars' pets 'running riot around the castle
The stunning halls of Downton Abbey - properly known as Highclere Castle - have seen their fair share of upstairs-downstairs drama.
But the latest spat to rock the stately pile involves its canine occupants.
Sources have revealed that the cast of the award-winning ITV show have been banned from bringing their dogs to work, after they ran riot around the house and grounds.
Hounded out: Lady Carnarvon, 49, owns three spaniels and two labradors of her own, and found the additional dogs too much to handle
Dogs at war: The Earl of Grantham, played by Hugh Bonneville, pictured with the Crawley family's pet. The Earl and Countess of Carnarvon, who own Highclere, took the step when the number of on-set pets got out of hand. Lady Carnarvon, 49, owns three spaniels and two labradors of her own, and reportedly found the furor caused by additional dogs too much to bear.
A source on the show said: 'As the cast spend so much time filming at Highclere Castle, a lot of them bring their dogs with them. Lady Carnarvon imposed a ban because she doesn't like the dogs going in certain areas in case they cause a mess.
'One of her own labradors gets jealous when rival dogs are on set, which is believed to be another reason.'
Britain's best export? Downton Abbey, soon to return for a new series, has gathered over 120 million viewers worldwide
But it seems some of the actors are unwilling to see their furry sidekicks hounded out.
Dame Kiri Te Kanawa, 69, who plays Australian soprano Dame Nellie Melba, admits: 'I took my two dogs along and Lady Carnarvon didn't want those anywhere near the place, but anyway I did.'
Ed Speelers, who plays dashing downstairs footman Jimmy, is also on the naughty list. 'I've got a border collie who ran off and up to the part of the house you're not allowed to go to,' he says.
'I had to run after him and pick him up by the scruff of the neck because he was getting mud everywhere.'
Canine chaos: Frank, a bouncy young border collie, has caused mayhem behind the scenes for his master, Ed Speelers
Despite his crimes, Ed hopes Downton's writers might one day find a part for his wayward young pet, who the actor named Frank.
If he needs some lessons in manners, the excitable hound could take a cue from Lesley Nicol's dogs.
Single... but maybe not for long: Lady Mary, played by Michelle Dockery, with baby George
The actress, who plays cook Mrs Patmore, reportedly brought her own Tibetan terrier and a rescued miniature poodle to the set without the slightest mishap.
Collie Frank behaved brilliantly the first day Ed took him to work, but incurred the wrath of Jim Carter, who plays butler Mr Carson, by chewing the carpets in Hugh Bonneville [the Earl of Grantham]'s dressing room.
Ed explains: 'He had bits of carpet dangling out of his mouth and I said, "Frank, you've ruined my career. Hugh plays my boss, so you've blown it for me."
'Frank just sat there and licked his lips while I scrubbed away the mud he'd spread around and pushed the sofa into a position that would hide the damage. Now everyone's sending me up because I was acting like a real footman.'
The fourth series of Downton Abbey will return to UK screens in September, and will be set in the roaring Twenties.
With the Crawley family still in mourning after the demise of Matthew Crawley, the heir to the estate, fans can expect a sombre opening.
But single mother Lady Mary may not be left alone for long, thanks to the arrival of two eligible aristocrats as potential suitors.
Tom Cullen will join the cast as Lord Anthony Gillingham, while Charles Blake, played by Julian Ovenden, will also vie for her hand.
As well as being the jewel in ITV's crown, Downton is officially Britain's most successful TV export, with over 120 million viewers worldwide.

Read more: http://www.dailymail.co.uk/news/article-2396579/Lady-Carnarvon-banishes-dogs-Downton-Abbey-Owner-Highclere-calls-time-stars-pets-running-riot-castle.html#ixzz2d1jOjsu0
Buffer