Last night I had the strangest dream. Not as strange as the time I was pregnant and dreamt I gave birth to Cookie Monster from Sesame Street, but still weird & kind of interesting. I've heard people say that all dreams have a meaning behind them. Not sure I agree but this morning as I was telling my husband about the dream, I saw similarities between the dream and real life.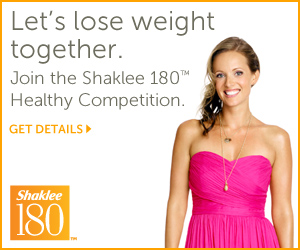 Shaklee

180™


Check it out HERE
There are two things you need to know.
1. I have been super excited about being chosen to be a

Shaklee 180

blogger - blogging about my weightless experience over the next 180 days. (starting March 1st -more on that later)
2. Last night I watched the first episode of Survivor: Fans vs. Favorites.
Somehow, these two events were stuck in my brain - causing me to dream I was competing in:
Survivor - Shaklee180. And all the other contestants I was playing against were ME. Different versions of myself. "Overly-happy-June" was cheering her team on while "overweight-and-hungry-June" knew her eating habits were going to make a drastic change and was just coming to terms with her new diet. There was

"do-whatever-it-takes-to-win-June"

, who was mentally forming a plan to guarantee her a winning result & then there was

"Friendly & supportive June"

- she was forming alliances with the other cool girls. It was like "The biggest Loser" had been moved to a deserted island.
I dont remember much else except the very end of my dream. I was at tribal counsel - each version of myself voting out the June that was the weakest link. Jeff Probst tallied the votes. It was "Lazy June" who got the most votes. She stood up and carried her torch over to Jeff Probst who put out

Lazy June's

flame saying, "The tribe has spoken. You're still chubby".
Jeff is so rude...
Look at that smirk on his face!
I was so shocked and offended, I woke up.
When I think about it, dieting has always been a fight against myself. I really am the star of my own reality show.
This time, I want healthy June to win instead of being bullied by

Unmotivated June

or

Discouraged June

.
Today, I am Motivated June and my plan is to stay that way. No one - not even myself - is going to put out my flame. Don't even try to mess with Motivated June, or "Bad-Ass-June" will make an appearance. And it wont be pretty. She's a no nonsense sort of a gal.
When it's all said and done,
I'm secretly hoping Sexy June will make an impressive comeback.
But we'll have to wait and see.
Buffer