(Photo : ITV) Downton Abbey
With Season three at a close, fans of the hit British-American drama "Downton Abbey" are now looking forward to the show's Christmas Special. More and more details regarding the highly anticipated holiday episode are continuing to unfold.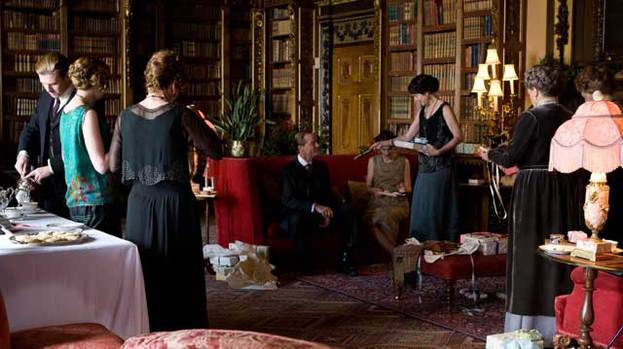 The Christmas storyline is said to have the Crawley family making the trek to Scotland to pay a visit to Rose and her parents at Duneagle Castle in the Highlands.
Besides Bates, Anna and O'Brien, several of the servants will end up staying in Downton while Lord and Lady Grantham, Dowager Countess Violet, Lady Mary and Lady Edith all make the trip to see the relatives.
Get ready: Michelle Dockery, as Lady Mary, will feature in the two-hour long special that will air on Christmas Day
Carson is adamant about keeping the servants in check, but with the country fair approaching, it seems as though some of the staff members will have the temptation to lose focus.
In the romance department, Edith and Mrs. Patmore are said to experience some love. However, the primary plot will hone in on the repercussions of Lady Rose's affair, as she was sent home in the last episode of Season 3 upon the realization that she was having relations with a married man.
The good life: The staff at Downton Abbey are set to feature heavily in the storyline
The ITV network had launched the very first pictures of the show's special and gave "Downton" fans a fair warning that it may get them a bit emotional. The cast had filmed the scenes for the special show back in August.
ITV's Director of Drama, Laura Mackie: "This is one episode you will want to see live with millions of others - and best have the tissues ready," she said.
Production for Season four of "Downton Abbey" is scheduled to start at Highclere Castle in February of 2013. The next installment will reportedly include eight new episodes that will again air on ITV.
http://www.enstarz.com/articles/10145/20121206/downton-abbey-christmas-special-spoilers-and-more-plot-details-revealed-season-4-filming-to-start.htm