I have an entire file full of great quotes I have collected over time. One of my favorite places to find some really great quotes is SearchQuotes.com There are many varied topics, some with pictures and others without. I love the Picture Quotes because a picture stands out and catches my attention but I also enjoy the way SearchQuotes provides a thought or small blurb about the topic right below the picture. LOVE it!
Here's an example: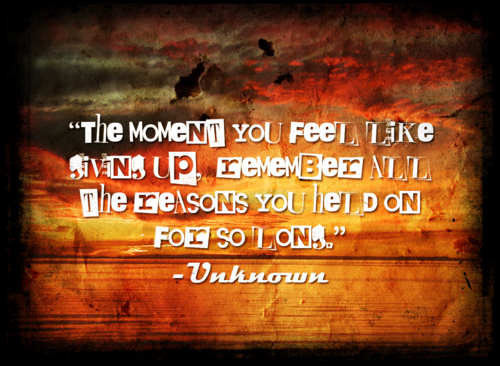 The
moment you feel like giving up, remember all the reasons you held on for so long.
There will be times in life that we will all experience the desire to just give up on fighting through our hardships. It is these times that are best for building our character, and shaping who we may be able to become in our future. As we continue to grow in life we have to learn the important principle of learning what not to put limits on in our lives.

If we are willing to limit the amount of work we are willing to put in, then we are willing to limit the amount of growth that we may have reached potentially. Instead of giving up when times get hard, remember that in life there will always be hard times that will try to push us away from our dreams; push harder than life is pushing against you, and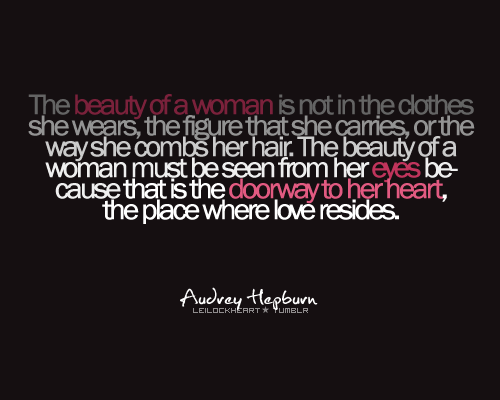 The
beauty of a woman is not in the clothes she wears, the figure that she carries, or the way she combs her hair. The beauty of a woman must be seen from her eyes because that is the doorway to her heart, the place where love resides.
In our world today we are lead to believe from society's influence that a woman's beauty is usually characterized by how she may appear on the exterior. Women are taught from a young age by the media and culture period that make-up and hair must be done nicely, clothes must be sexy, and bodies must be flawless in order to be considered to be beautiful. We all get caught up in these false qualifications of beauty, and fail to realize that the true qualification of a woman's beauty or anyone's beauty for that matter relies on the person they are at their heart's level.

True enough, being attractive is a part of what attracts humans to each other in the beginning stages of any new relationship, but a connection to someone's heart and soul is what keeps a healthy relationship going. It is important to remember that a woman's beauty on the outside will usually diminish greatly as their age increases, but the beauty a woman holds inside her heart will never fade!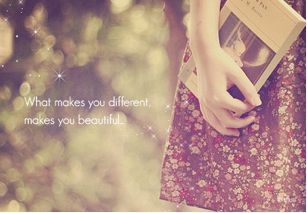 What
makes you different makes you beautiful.
The things that make you different are the things that make you beautiful. There are some very unique traits that every single person in the world has that can't be compared to any other person collectively. Sure, we all have our similarities, but there is no way that two people can say that they are exactly identical.

This is one of the great beauties that life has to offer us, even though a lot of us choose not to acknowledge this interesting tidbit, as they desire to fit in instead of stand out. Remember that if you ever want somebody to see how truly beautiful that you are, you have to be willing to live your life as yourself. Don't try on someone's life in an effort to impress, because in the end the only person they will be truly impressed with will be you in the outfit of another person.
Isn't that great?! So, now one of my secret resources is revealed! Thankfully, I have other secret places I find quotes so, check SearchQuotes.com out if you are looking for a quote on a specific topic or just keep visiting Simply June and I'll keep the quotes from all sorts of places coming!