Believe it or not, there are women out there in the world who are immune to common sense when it comes to the man they are in a relationship with.
They want to LOVE someone so much they dismiss common sense - choosing to turn a blind eye to what is so obvious to the rest of us.
Here are just a few basic warning signs:
6 Signs of a Bad Relationship
1

"How do I feel about him/her?" If you're debating on whether you should even be with this person, chances are the relationship isn't going to go anywhere.

2

"Am I being taken advantage of?" Is your partner pressuring you into doing things you feel uncomfortable with? As in getting intimate when you're not ready or making you cover for them for whatever reasons? This is a HUGE red flag.

3

"Am I wasting my time with him/her?" If you feel like you're sacrificing your time, money, energy, and life just to please this person, it's a sign that they're probably not into you.

4

"Is he/she always nagging me?" If your partner is constantly putting you down and telling you what to do, you can't possibly feel comfortable.

5

"Am I trapped in this relationship?" Do you feel like you have to abide by his/her rules just to keep the peace? This is a definite red flag.

6

"Is all this really worth it?" If you find yourself even passing by this thought, it's best just to end it right there. Good relationships are definitely worth it, and not seeing a future in it means it's time to let go.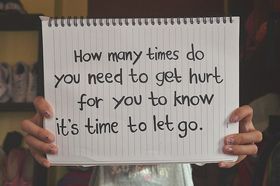 Never allow someone to be your priority
while allowing yourself to be their option
The first step in recognizing and admitting you are in a bad relationship. Understand it's like a cancer spreading through the entire body. Until you say enough is enough, your spirit will suffer. Slowly and painfully the toxic relationship will chip away self esteem. Poison eventually infects the entire body and the very heart of who and what you are..
Until finally, there is a complete death of the soul.
No one wants that so if any of those 6 signs sound familiar to you...
Muster up all your courage and please take that first step.