The other day while running a few errands with my sister, my niece Jenna played a song for me. The song she played was

"In My Dreams" by Charley Jenkins

. It was a sweet song and as he sang the line "In my dreams, your dreams come true" all three of us did an "Ahhh!".
(I couldn't find a video on YouTube so here is a small audio clip of that verse)
At that moment, right there in the car my cute niece, her mom & I all sighed and gave each other that look that only women understand. It's the look you give a fellow woman when you see or hear something so romantic that no one has to say a word to understand that if any man said this same thing to you personally, you would lose all composure and fall in instant, mad, passionate love.
Yep, all this is conveyed in one look.... It's a girl thing.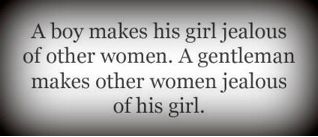 One of the most romantic things my husband ever said to me was:
"For the rest of your life, when ever you walk into a room full of other women, if you don't absolutely believe with all your heart, that not a single one of those women is loved more than I love you, then I have not done my job."
After a few bad experiences with the wrong guys, I almost missed out on Mr. Right because I had started believing that there was no way a good, kind, nice guy like that would be interested in me. I came with baggage. I had fallen a few times and although I've always gotten back up after falling, I could only focus on the skinned up knees or the scars from all my falls.
It's that low self worth that causes us to "settle" for much less than we deserve. What helped me then, and actually helps me still today, was to listen to the people in my life whom I loved & respected. When I have a hard time seeing myself as they do, I trust their eyesight instead of my own. When they tell me the skinned knees aren't noticeable or that the scars are part of what makes up true beauty, I trust them enough to believe.
Their view never lets me settle.
Are you settling for less than you deserve?
Ask the ones who have the best view of who you are on the inside. Trust what they see until you are able to get your eyesight checked.
Then you will see, as plain as can be, that you deserve to

walk into a room full of other women, and absolutely believe with all your heart, that not a single one of those women is loved more than you by the man you have given your heart to.
I know a good guy can seem kind of rare
so let me remind you what one looks like.......

Bogart & Bacall

•A good man not only makes you feel good about yourself, he makes you feel special and unique in this world. He makes you happy more often than not.
•A good man understands that men and women are equal. He is looking for a partner, not someone to take care of him and to cook his meals and clean his bathroom. A good man respects you, and respects women.
•A good man has honor, a rare virtue in modern society. He respects himself and is striving to be a good person and create positive energy in the world. A good man doesn't cheat and lie because he is afraid of being caught; rather he doesn't cheat and lie because he is a man of honor and respects himself as such.

•A good man will hold your hand, and hold you. He will hold you when you cry, hold you when you're sick, hold you when you look like crap- and tell you that you're beautiful.

Paul Newman & Joanne Woodward

•A good man is mature. Boys will be boys, but boys aren't men.
•A good man is confident in himself and in his place in the world, enough so that he can laugh at himself. A good man has a sense of humor.
•A good man has a giant heart and is kind to all, great and small. He is not only nice to those with more power who could help him out in return one day, but to small children, animals and waitresses as well. He is caring and considerate of your feelings, even when they don't make sense.
•A good man realizes that strength and self-worth come from within, not from external factors like a fast car, fat bank account or big muscles.

Grace Kelly & Prince Rainier

•A good man holds the door for other people- not just for women he is trying to impress.
•A good man is not afraid to show affection, because he knows that giving a hug or displaying emotions does not make him less of a man. It makes him human.
•A good man splits the household chores 50/50; after all, you both ate the food and made the messes equally. A good man realizes that your time and work is just as valuable as his and does not expect you to clean up after him.
•A good man is not threatened by your success, because he is successful too- or at least striving for success. A good man knows there is enough success to go around.

Gordon & Marjorie Hinckley

•A good man offers his seat to old people, pregnant women or mothers on the bus.
•A good man is your fan, and lets you know this on a regular basis with words and actions. His emotional support makes you a stronger person, which does not threaten him at all, because he sees you as a team, not as competitors.
•A good man loves his mother. Men who do not love or respect their mothers either do so without reason (which is bad) or for a specific reason (which is worse). A man who does not love, honor and respect his mother has issues that you cannot fix. Don't even try.

My Hubby & I

•Most of all, a good man makes you want to be a good human, to take care of yourself and to try new challenges. A good man makes you want to be a better you.
Remember, although people can certainly change themselves, no one can ever change anyone else. You will never be able to change a man, and it is better to be alone and searching for your true match than stuck with a guy who doesn't hold your hand, who doesn't give his seat to old ladies on the bus, and who doesn't make you feel like you are special.
Because you are special, and you deserve a good man.